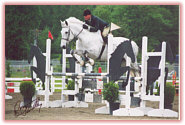 TESTIMONIALS
What our clients are saying ………….
"I got my power steering back! My 10 year old competition horse had routine dentistry over the years and I really didn't think he had any problems. I didn't realize how smooth he could be when his mouth worked better!" Viki Friedrich, owner/trainer, Rocky Top Arena, barrel racing barn.
"L" is a 4 year old who had routine dentistry 2 months prior by a very good general equine practice vet and was better but still fussy. I rode "L" for the first time on Saturday, 4 days after you did his teeth. I took him over some cross country fences and he was fantastic. The ultimate test of course would be the dressage. I rode him dressage this evening for the first time since he was worked on. He was immediately much better in his connection and contact. It was like night and day. He has such a great personality and work ethic; the old resistance just did not make any sense. Well until now! I felt bad for trying to work him through the pain." "P.S. He increased his dressage score by 10 points the next week." Michelle Pestl, owner/trainer Napoleon Limited, event barn, Renton, WA.
"Watching Dr. Vetter work; he is the most thorough equine dentist I have had on my farm." Heather Carder, Owner/Operator of Wildwood Farms, an equestrian and sporthorse facility in Oak Harbor, WA.
"Dr. Vetter sets up his custom fifth wheel trailer in my covered arena. This customized trailer has fully collapsible stocks installed in the interior. Horses are lead up the loading ramp into a safe, high tech dental lab where they are handled and treated with the utmost care. Dr. Vetter has extensive specialized training in his field and has all the latest and best tools and techniques at this disposal. Your horse will thank you." Carla Shown, Moonstruck Meadows, breeder of Andalusion Horses and dressage competitor, LaCenter, WA.
"With all the time and effort that is put into training of the show and pleasure horses it is so important that they are comfortable in their mouth. As a rider it cannot be expected for your partner to respond willingly unless they can do it with comfort. Mouth maintenance is so important in the entire training program to assure comfort and willingness in the equine partner. Having an equine dentist that approaches the mouth with knowledge and safe handling techniques can make it a much more pleasant experience for everyone involved." Joyce Thomas, Owner and trainer, N'Joy Arabians, Nationally competitive Arabian show barn.
"It is wonderful to have the Vetters fully self-contained dental unit with the latest dental instruments come directly to the farm. Having Kathy as an assistant is an added plus for this team. Joanne Ross, owner/trainer Scott Creek Miniatures, home of National Champion miniature horses.
Introduction, Mobile Clinic, Miniature Horse, Age/Needs, Examination, Periodontics

Restorations, Equipment, FAQ, Dental Costs, Dental Problems, Teaching Clinics

Richard Vetter, D.V.M., Case Histories, Testimonials, Photo Gallery, Links of Interest, Contact Us

Home


Performance Equine Dentistry
Office: 360-829-0500, Cell: 360-508-0083, Fax: 360-829-0502
Email: vetent@centurytel.net
Copyright © 2007 Performance Equine Dentistry, Inc. P.S. All Rights Reserved.