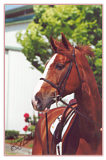 CONTACTING US
Performance Equine Dentistry is a mobile veterinary dental practice.
Our practice area is Washington and Oregon, with special arrangements to go to other states. We also now have a local Veterinary practice in Buckley, Washington (near Enumclaw) where you can haul in for greater scheduling convenience and a reduced per call rate.
Performance Equine Dentistry
28512 112th Street East
Buckley, WA 98321
Call us at 360-829-0500 (Office) 360-508-0083 (Cell) 360-829-0502 (Fax)
E-mail: vetent@centurytel.net or feel free to drop us a line using our feedback form below.
Thanks for your interest in PERFORMANCE EQUINE DENTISTRY !



Introduction, Mobile Clinic, Miniature Horse, Age/Needs, Examination, Periodontics

Restorations, Equipment, FAQ, Dental Costs, Dental Problems, Teaching Clinics

Richard Vetter, D.V.M., Case Histories, Testimonials, Photo Gallery, Links of Interest, Contact Us

Home


Performance Equine Dentistry
Office: 360-829-0500, Cell: 360-508-0083, Fax: 360-829-0502
Email: vetent@centurytel.net
Copyright © 2007 Performance Equine Dentistry, Inc. P.S. All Rights Reserved.